Samsung Galaxy Buds 2 Pro: Buds and beyond
What better time than now to invest in a pair of wireless headphones? With the country opening up, it's the best way to listen to music on the go.
This is especially so as wireless models have improved by leaps and bounds in recent years, and Samsung's latest flagship Galaxy Buds 2 Pro proves it.
fine tuning
Both the earbuds and the charging case have a matte finish: not only do they look better, but they feel "softer" and more grippy to the touch.
They also don't get as greasy compared to last year's glossier version, but I'm not sure if they're prone to nicks and scratches.
Available in Bora Purple, Graphite and White, the Buds 2 Pro have a matte texture that's 'smooth' to the touch.
The Buds 2 Pro are thinner than their predecessor and offer a more comfortable fit that doesn't put too much pressure on your ears. It also sticks out less for a sleeker look.
Like the previous model, it's IPX7 rated for water resistance – you don't have to worry about sweating while wearing the headphones.
Touch controls have been improved. Buds 2 Pro register touches more accurately, making it easier to answer calls, control music playback and adjust volume right on the earbuds, without reaching for your phone.
One of the novelties, quite new and unexpected, is Neck Stretch. He will be reminded to crane his neck if he has been looking down for 10 minutes. Suffice to say, I was reminded too many times.
Smaller, lighter earbuds offer a comfortable fit.
The wireless range was fantastic: I was able to move freely around my house without the audio dropping out, even when separated by walls and doors.
As for battery life, I got between four and five hours, and the charging case provided at least three additional full charges.
I never worried about running out of power because the case only takes five minutes to charge the earbuds for an hour of playback or 10 minutes for two hours.
The case can be charged wirelessly, including with a phone if yours supports PowerShare, or with a USB-C cable, and one comes included.
augmented audio
The Buds 2 Pro have been upgraded in two areas that count, the first being Active Noise Cancellation (ANC).
Five minutes of charging with the case will give you an hour of music playback.
I could feel the difference as soon as I put them on: the fan, air conditioning, and outside noises all faded away, leaving only a faint humming sound.
Even in noisier environments, the earbuds' three microphones did an excellent and noticeably better job of rejecting noise than the original Buds Pro.
The improved ANC helped me enjoy my music more while out and about, and hopefully focus more effectively on games.
The other big improvement is in the audio: I didn't have to listen very long to realize that the Buds 2 Pro sounded significantly better than the previous version.
Purple is all the rage on devices these days.
Favorite tracks from Nirvana, Sting and Aerosmith sounded more detailed and deeper.
I couldn't detect any distortion, either in the highs or lows, and the soundstage felt wider.
This was complemented by enhanced 360° audio that changes the sound as you move your head, giving you better positional audio.
It works particularly well with some music, making it sound like you're in a live performance.
The bass sounded satisfyingly punchy without being too aggressive, which is especially nice when watching movies.
Of the three microphones, two employ beamforming technology to capture speech with minimal interference.
Whether it was calls or video conferences through Google Meet, I was told that it sounded clearer and better.
Buds 2 Pro register touches more accurately, making it easier to answer calls, control music playback and adjust volume right on the earbuds, without reaching for your phone.
There's also a handy voice detection feature that will automatically lower the music volume when you're having a conversation in person.
evolved ecosystem
It goes without saying that you get the most out of the Galaxy Buds 2 Pro when you use them with Samsung products.
The smart switch feature, for example, allows you to seamlessly switch the headphone connection between multiple devices that are registered to your Samsung account.
If you are watching a movie on a tablet and receive a call on your smartphone, this feature will route the call to your headset. It's also compatible with newer Samsung TVs, but I couldn't test it on one.
The only drawback is the cost – the earphones are priced high at RM899 – but it's a worthwhile addition if you're in the Samsung ecosystem.
GALAXY BUDS 2 PRO
(Samsung)
Wireless headphones
SPEAKERS: Two-way speakers (tweeter + woofer)
CONNECTIVITY: Bluetooth 5.3
DRUMS: Up to 5 hours/18 total with ANC; up to 8 hours/29 total without ANC for music
DIMENSIONS: Case: 50.1 x 50.2 x 27.7mm; headset: 19.9 x 21.6 x 18.8mm
WEIGHT: The box weighs 43.4 g; the headphones weigh 5.5g
PRICE: $899
CLASSIFICATION: 4.5/5 stars
Review unit courtesy of Samsung Malaysia Electronics, 1-800-88-9999
PROS: Excellent two-way speakers; noticeably better noise cancellation; fits tightly; IPX7 rated for water resistance; lots of features.
CONS: Expensive.
Azalina vows to address, amend outdated laws to be relevant with current times
KUALA LUMPUR: As the new Minister for Law and Institutional Reform, Datuk Seri Azalina Othman Said promises to address laws that are outdated and make necessary changes to make them relevant to current times.
In a statement on Saturday (December 3), Azalina said, among other things, that the reform includes the separation of powers of the Public Ministry and the Public Ministry, to preserve the independence of the discretion of the Public Ministry.
"I will also ensure that outstanding issues, including the citizenship status of children born abroad to Malaysian mothers, make continued progress and, where necessary, reform laws to restore the rights of the vulnerable, marginalized and those who don't get the same treatment in our nation," he said.
Meanwhile, in the same statement, Azalina said that there are many challenges ahead for the Unity Government as it navigates the next term, taking into account the impact of the Covid-19 pandemic and the economic downturn expected in the coming year. .
"The portfolio that I am leading involves efforts that span the length of government. I look forward to working together with elected representatives from various parties to address the challenges," he added.
With vast experience as a Cabinet member and having headed various ministries since 2004, Azalina once made history when she became the first woman to be appointed Minister of Youth and Sports in 2004 and the first woman to be appointed Vice President of The House of Representatives. Representatives in 2020.
Azalina was also Minister of Tourism from 2008 to 2009 and Minister in the Department of the Prime Minister (Legal Affairs) from 2015 to 2018. – Bernama
Bung says Sabah sidelined in Cabinet line-up
KOTA KINABALU: Datuk Seri Bung Moktar Radin (Photo) says he feels Sabah is underrepresented in Prime Minister Datuk Seri Anwar Ibrahim's federal cabinet.
Sabah's deputy chief minister said the two ministerial posts the state received through Pakatan Harapan's Upko and Gabungan Rakyat Sabah (GRS) party did not reflect the support given to the unity government by Sabah MPs.
"It seems that Sabah has been left out of the Cabinet formation in the new unity government.
"There is not even one Sabah Barisan representative in the cabinet compared to Sarawak, which has five," he said in a statement here on Saturday (Dec 3), adding that this was not fair to Sabah.
Sabah chief Barisan Nasional said he respected the Prime Minister's decision, but said Sabah needed to be reflected equally in the Cabinet to show that the Federal Government meant business in ensuring that Sabah's rights and development were in the agenda of the new Federal Government. .
"I'm worried. Does this mean that Sabah will also be left out of the development?" questioned Bung Moktar, who led Sabah Barisan to a seven-seat victory in the just-concluded GE15, the most among parties they contested in the state.
Anwar had announced on Friday (Dec 2) evening that incoming Upko Chairman Datuk Ewon Benedick and GRS Papar MP Datuk Armizan Ali have been appointed to their cabinet as Minister for Business Development and Cooperatives, as well as Minister in the Prime Minister's Department (Sabah and Sarawak). Affairs) respectively.
Of the seats in Sabah, GRS won six, Pakatan (five), Warisan (three), Independents (two), and one seat for Parti Kesejahteraan Demokratik Masyarakat and Perikatan Nasional.
Bung Moktar congratulated the two new Sabahan ministers, but stressed that it was important that Sabah receive portfolios that would benefit the state.
"The people chosen for the job must be well-versed in the issues of Sabah's rights and the needs of the state.
"Sabah needs a strong voice in Cabinet to make sure that development funds for our schools, roads and electricity, among others, are dealt with quickly without further delay," he said.
Bung Moktar said he hoped all the new ministers would prioritize Sabah affairs so that the state does not remain in the background.
"We don't want Sabah to be left out again in terms of development, especially infrastructure, which is vital for the people.
"For example, the Pan Borneo highway project must continue and be accelerated. We do not want the project to be discontinued again as it happened when Pakatan became the government in 2018," he said.
More than 30 locations nationwide at risk of landslides
PETALING JAYA: More than 30 locations across the country have been identified as landslide hotspots and with the current continued rain, the potential for landslides is even greater.
Malaysia's Department of Minerals and Geosciences said continuous rainfall during the northeast monsoon, which is expected to last until March next year, is the main reason why areas with slopes greater than 25° are at risk of erosion. .
"This current monsoon phenomenon may result in the potential for landslides being higher, especially in settlement areas with slopes greater than 25°, hillside roads and river basin areas in some ecological parks," it said in a statement.
The department added that the hotspots are in Pahang (Cameron Highlands, Fraser's Hill), Selangor (Bukit Antarabangsa-Hulu Langat, Kuala Kubu Bharu), Kedah (Gunung Jerai, Baling), Penang (Tanjung Bungah, Paya Terubong), Negri Sembilan ( Genting Peras, Jalan Seremban-Simpang Pertang), Perak (Ipoh, Kledang), Terengganu (Aring-Kuala Berang-Kenyir), Kelantan (Lojing – Gua Musang), Johor (Gunung Pulai), Sarawak (Miri, Kapit, Bau) and Sabah (Kota Kinabalu, Kundasang, Sandakan), among others.
The areas are under constant monitoring by the department and relevant agencies, he said.
The Ministry of Energy and Natural Resources and its agencies, which include the department, have also been evaluating, monitoring and implementing landslide risk reduction programs throughout the country.
"A total of 25 ecological parks, which are tourist attractions, have been identified as potentially threatening with the occurrence of mapped debris flows.
"These areas have been installed with an early warning system, while community-based disaster risk management has been established involving local residents and district-level agencies," the department said.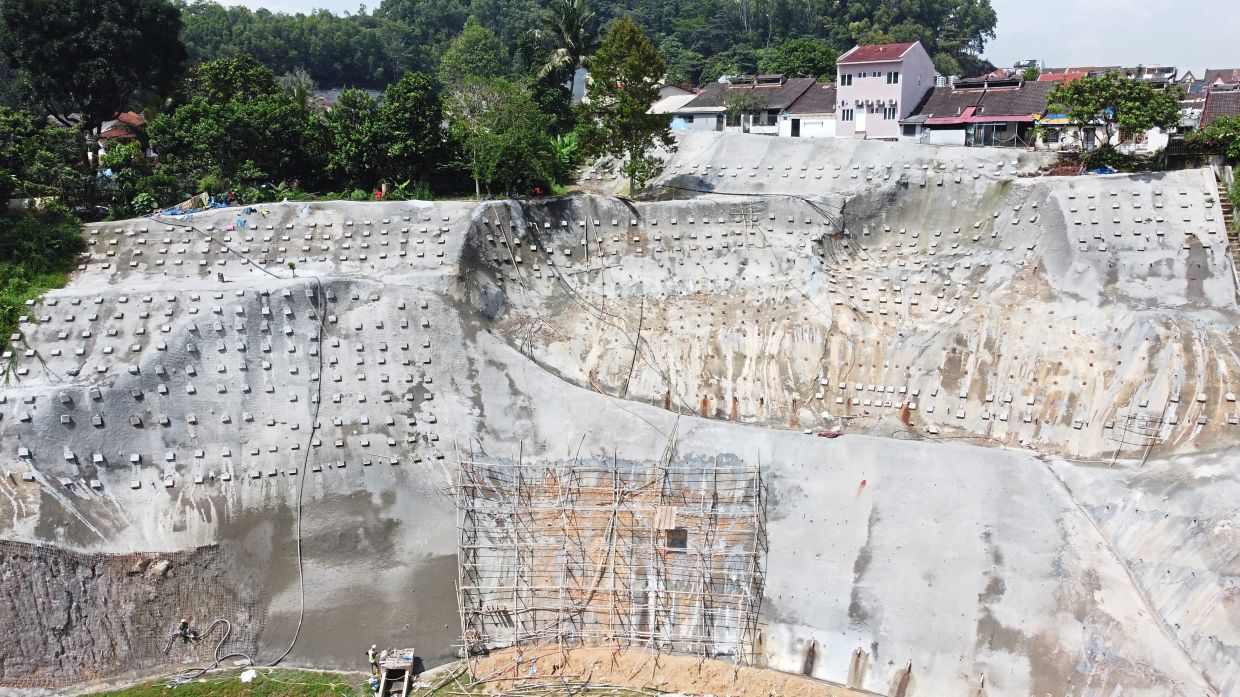 Staff from the Malaysia Institute of Public Works help rehabilitate landslides at Taman Mega Jaya in Ampang, including shoring up areas with concrete. — IZZRAFIQ ALIAS/The Star
Under the program, local residents receive training to improve their level of preparedness against landslides.
The department said it is also working with local authorities to map the hazards and risks of the slopes.
"The department is committed to providing early information related to geological landslide disasters, including working hand in hand with other technical agencies under the National Disaster Management Agency to develop a network of early warning systems, including the public awareness to reduce the risk of loss of life and property damage," he added.
Last month, the Meteorological Department said that the northeast monsoon phase will persist until March next year.