Making the Web safer for women will accelerate their advancement in STEM
Concerned that her 13-year-old daughter was chatting with strangers, Raja Azrina Raja Othman decided to check her online messaging system.
To her dismay, she discovered that not only was she chatting with unknown people, but that images of pornographic nature were being shared in a chat group.
"When I asked her who these people were, she was unsure and said they could be friends of friends.
"She said the images could have been sent accidentally or unintentionally. But I didn't agree because the photos were being sent out regularly.
"I perceived it as an attempt to entice users in the group," she said.
From left: ASP Siti Baizura, Raja Azrina, MCMC head of Community Programme Department (CPD) Hashimah Hashim, MCMC head of Risk Control and Compliance Department Azleyna Ariffin, and CPD Director II Saidatul Ashikin Abu Hassan at a forum focusing on Internet security for women in STEM. — MCMC
That was 15 years ago and her daughter is now 28 – this made Raja Azrina, Telekom Malaysia's chief information security officer, question how much easier it would be today for a stranger to target children.
Speaking at the "Internet Access and Security Empowers Malaysian Women in STEM Fields" forum organised by the Malaysian Communications and Multimedia Commission (MCMC), she emphasised that online threats have become more sophisticated.
In the case of cyberbullying, harassers frequently create multiple anonymous accounts to overwhelm victims with hate messages, she said.
This leaves parents no choice but to keep up with various potential dangers to ensure their children are safe when online.
"We have to be aware that there are well-organised groups that have the time and resources to hunt for victims online. They may not just be random strangers looking for some fun," she said.
The forum highlighted that the lack of awareness of online safety could potentially hinder girls from pursuing a career in STEM (science, technology, engineering and mathematics).
In the case of cyberbullying, harassers frequently create multiple anonymous accounts to overwhelm victims with hate messages. — 123rf.com
According to a report by the International Telecommunication Union (ITU), online harassment and violence are "significant barriers" that prevent girls and women from actively participating in the digital world.
Based on responses gathered on Twitter and LinkedIn, ITU stated that "safe and affordable" Internet access is crucial in helping girls pursue a profession in technology.
Disturbing data
In December, the United Nations Population Fund (UNFPA) published the Making All Spaces Safe report, providing an in-depth look into technology-facilitated gender-based violence (TFGBV).
TFGBV includes online harassment, which is defined as using technology to "repeatedly contact, threaten, annoy, or scare another person"; image-based abuse (IBA), which is taking sexually explicit pictures of someone without their permission and sharing them or threatening to share them; and cyberstalking.
According to the UNFPA report, at least 38% of women worldwide have personally encountered online violence and the number is rising. — AFP
According to the report, at least 38% of women worldwide have personally encountered online violence and the number is rising.
The report cited figures by Plan International – a global development and humanitarian organisation – that 58% of adolescent girls and young women have been harassed online.
Of those, 85% had experienced multiple types of TFGBV, including abusive and insulting language (59%), body shaming (39%), threats of sexual (39%) and physical violence (21%), sexual harassment (37%) or stalking (32%).
Plan International's report – Free To Be Online – polled 14,000 girls across multiple continents.
Closer to home, the non-govermental organisation (NGO), All Women's Action Society (Awam), reported that it received 118 cases of online sexual harassment between January 2021 and June 2022.
Intimate photos leaked online could harm the career chances of sexual harassment survivors, says Tan. — JERNELL TAN CHIA EE
"The types of cases that we primarily receive are either survivors receiving sexual images, videos or messages directly from the perpetrator, or the perpetrator sharing the survivors' intimate pictures with others online without their consent," said Jernell Tan Chia Ee, information and communications officer at Awam.
On Oct 2, 2020, Awam released a statement urging MCMC to take action against the V2K group on Telegram in which people were sharing images and personal information of young women without their consent.
Members in the group were bartering personal information, including phone numbers, social media handles and even home addresses of women, according to the NGO.
The information was used to send lewd messages to the targets, stated Awam, adding that the group had almost 40,000 members.
"We not only accompanied the survivors to lodge police reports at the Royal Malaysia Police headquarters in Bukit Aman, Kuala Lumpur, but played an instrumental role in bringing the case, plus the issue of online sexual harassment as a whole, to the public's attention via the media," Tan said.
MCMC responded to Awam's statement, saying that it had already reported the matter to Telegram, and is working closely with the Royal Malaysia Police (PDRM), which had reached out to Interpol for assistance.
Tan stated that many of the women who contacted Awam expressed a dreadful sensation of being violated, as well as anxiety and fear about how their loved ones or friends would react.
Not everyone was spared from victim-blaming – some were told they should have known better than to share their private photos on social media, while others were criticised for their attire in the images.
The ordeal could shatter their confidence and affect their performance at work or school, said Tan, adding that intimate photos leaked online could also harm their career chances.
"It's a terrible and unjustifiable price for women and girls to pay for other people's 'right' to free speech," she added.
A Unicef report titled 'Towards An Equal Future: Reimagining Girls' Education Through STEM', published in 2020, called for more efforts to prepare girls and young women to equally participate in the workforce. — AFP
The experience can make it difficult for women and girls to get into or remain in STEM fields, continued Tan, as they may feel discouraged or become fearful of accessing online tools and resources due to concerns for their personal safety.
"A good representation of women in STEM fields such as cybersecurity will allow countries to shape policies more holistically," she added.
Price of inaction
A Unicef report titled Towards An Equal Future: Reimagining Girls' Education Through STEM, published in 2020, called for more efforts to prepare girls and young women to equally participate in the workforce.
"We cannot afford to live in a world where scientific and technological solutions are desperately needed but half of the world's talent is excluded. We need girls and women," the report stated.
According to the report, not having enough female representation could have dire consequences.
Among the concerns include the fear that inequality will be perpetuated – at the current pace, the report said it will take 99.5 years to achieve gender parity worldwide.
The gender digital divide will also increase and the world will continue to be "designed by and for men", the report warned.
Women may also miss out on better work opportunities or lose out on future jobs.
This could result in women continuing to be unemployed or facing uncertainty in low-paying jobs that run the risk of automation.
Vani says most women in rural areas that she reached out to feared for their online safety and chose not to use the Internet for their businesses. — MUHAMAD SHAHRIL ROSLI/The Star
One of the main reasons women refuse to take up tech jobs is due to online safety concerns, according to Vani Mahadevan, director of Startup Malaysia.
Vani ran an initiative to reach out to women in rural areas to educate them on ways of expanding their small businesses using the Internet.
"The outreach programme involved 3,000 women – we offered to give them free classes on how to be a part of the digital economy.
"However, only 100 to 200 women were interested in following up with the trainer. The rest declined because they didn't feel safe about going online," she said.
Tan said studies revealed that women may be more vulnerable online, limiting them from taking advantage of online economic prospects.
She cited a Malwarebytes study published in 2021 involving 5,000 respondents in the United States, the United Kingdom and Germany in which 79% of women reported having received text messages from unknown numbers with dubious links, compared to 73% of men.
The study also found that 46% of women have had their social media accounts hacked, compared to 37% of men.
"In today's times when social media is a key hub for entrepreneurship, such hackings are a substantial concern, especially because women are already disproportionately vulnerable to online sexual harassment and cyberstalking," she said.
Empowering with education
At the MCMC forum, ASP Siti Baizura Mohd Yusof from the Cyber and Multimedia Crime Investigation Department under PDRM said authorities are committed to keeping Internet users safe.
She advised members of the public to not easily place their trust in strangers, whether it's offline or online.
According to a report by the International Telecommunication Union (ITU), online harassment and violence are 'significant barriers' that prevent girls and women from actively participating in the digital world. — Dreamstime/TNS
"When posting online content, remember not to reveal too much info about yourself because your personal details can be exploited by bad actors such as scammers," she said.
Parents too need to be aware of their children's activities online and take advantage of tools such as parental controls, she added.
From her experience, ASP Siti Baizura said women are more vulnerable to love and Macau scams.
"It's disheartening when we handle these cases and hear how they have lost money to scammers.
"We need to do more to keep people safe by constantly reminding them of possible online threats out there," she said.
Tan wants the subject of cybersecurity to be included in entrepreneurship programmes for women conducted by ministries such as the Women, Family and Community Development Ministry.
"For women to feel more safe online, there also needs to be reporting mechanisms with streamlined coordination between crucial stakeholders (for example, government agencies such as MCMC, CyberSecurity Malaysia and PDRM) that enable swift and effective responses to incidents of cybercrime," Tan said.
She explained that for such integrated coordination to take place, knowledge and skills of law enforcement agencies to tackle cybercrime also have to be enhanced via regular capacity-building sessions and inter-agency communications.
Laying down the law
In July, the Dewan Rakyat passed the landmark Anti-Sexual Harassment Bill, which calls for the establishment of a closed-door tribunal to hear sexual harassment claims.
If the defendants are determined to be at fault, the tribunal will render a verdict, award compensation and direct the offenders to issue an official apology to the complainants.
Offenders may be required to pay up to RM250,000 in compensation or damage for any loss or damage sustained by the complaint.
Defendants who do not comply with the tribunal's decision may face fines or imprisonment.
Other details are still being fine-tuned according to reports.
Tan said the tribunal may empower survivors to lodge complaints about online sexual harassment. However, in cases where the perpetrator is not within the country, Tan said it could be challenging to enforce the judgement due to differing legal jurisdictions.
A Malwarebytes study published in 2021 involving 5,000 respondents in the United States, the United Kingdom and Germany found that 79% of women reported having received text messages from unknown numbers with dubious links, compared to 73% of men. — Hand photo created by rawpixel.com – www.freepik.com
"In addition, if the tribunal issues orders that involve taking down online sexual harassment content, there might be limitations in implementation by stakeholders such as MCMC.
"This is because Malaysia does not have online content and safety laws that empower the government to not only impose a duty of care on tech firms to protect their users from harmful online content but to issue orders to take down such content," she claimed.
Tan proposed that the government encourage greater engagement and partnerships with telcos and local IT enterprises to promote user awareness about online sexual harassment, as well as policies for accountability within their online spaces.
Actions such as bans and suspensions of accounts belonging to perpetrators are some of the measures that should be taken, she added.
For a more comprehensive measure, Tan said the government should conduct a feasibility study on an online safety bill that protects children and adults from cyberbullying, online sexual grooming, hate crimes and online abuse.
She added that the Bill should enable the government or its agencies to impose a duty of care on tech firms to protect users and enforce compliance measures, adding that Australia has already passed its Online Safety Bill in 2021, with the UK and Singapore having followed suit to propose similar laws.
Lastly, Tan said a shift in mindset is needed – more people have to be respectful of others and not misuse information that is shared with them.
"In other words, a culture that normalises sexual harassment and rape should be replaced by a culture of respect and consent," she stated.
Azalina vows to address, amend outdated laws to be relevant with current times
KUALA LUMPUR: As the new Minister for Law and Institutional Reform, Datuk Seri Azalina Othman Said promises to address laws that are outdated and make necessary changes to make them relevant to current times.
In a statement on Saturday (December 3), Azalina said, among other things, that the reform includes the separation of powers of the Public Ministry and the Public Ministry, to preserve the independence of the discretion of the Public Ministry.
"I will also ensure that outstanding issues, including the citizenship status of children born abroad to Malaysian mothers, make continued progress and, where necessary, reform laws to restore the rights of the vulnerable, marginalized and those who don't get the same treatment in our nation," he said.
Meanwhile, in the same statement, Azalina said that there are many challenges ahead for the Unity Government as it navigates the next term, taking into account the impact of the Covid-19 pandemic and the economic downturn expected in the coming year. .
"The portfolio that I am leading involves efforts that span the length of government. I look forward to working together with elected representatives from various parties to address the challenges," he added.
With vast experience as a Cabinet member and having headed various ministries since 2004, Azalina once made history when she became the first woman to be appointed Minister of Youth and Sports in 2004 and the first woman to be appointed Vice President of The House of Representatives. Representatives in 2020.
Azalina was also Minister of Tourism from 2008 to 2009 and Minister in the Department of the Prime Minister (Legal Affairs) from 2015 to 2018. – Bernama
Bung says Sabah sidelined in Cabinet line-up
KOTA KINABALU: Datuk Seri Bung Moktar Radin (Photo) says he feels Sabah is underrepresented in Prime Minister Datuk Seri Anwar Ibrahim's federal cabinet.
Sabah's deputy chief minister said the two ministerial posts the state received through Pakatan Harapan's Upko and Gabungan Rakyat Sabah (GRS) party did not reflect the support given to the unity government by Sabah MPs.
"It seems that Sabah has been left out of the Cabinet formation in the new unity government.
"There is not even one Sabah Barisan representative in the cabinet compared to Sarawak, which has five," he said in a statement here on Saturday (Dec 3), adding that this was not fair to Sabah.
Sabah chief Barisan Nasional said he respected the Prime Minister's decision, but said Sabah needed to be reflected equally in the Cabinet to show that the Federal Government meant business in ensuring that Sabah's rights and development were in the agenda of the new Federal Government. .
"I'm worried. Does this mean that Sabah will also be left out of the development?" questioned Bung Moktar, who led Sabah Barisan to a seven-seat victory in the just-concluded GE15, the most among parties they contested in the state.
Anwar had announced on Friday (Dec 2) evening that incoming Upko Chairman Datuk Ewon Benedick and GRS Papar MP Datuk Armizan Ali have been appointed to their cabinet as Minister for Business Development and Cooperatives, as well as Minister in the Prime Minister's Department (Sabah and Sarawak). Affairs) respectively.
Of the seats in Sabah, GRS won six, Pakatan (five), Warisan (three), Independents (two), and one seat for Parti Kesejahteraan Demokratik Masyarakat and Perikatan Nasional.
Bung Moktar congratulated the two new Sabahan ministers, but stressed that it was important that Sabah receive portfolios that would benefit the state.
"The people chosen for the job must be well-versed in the issues of Sabah's rights and the needs of the state.
"Sabah needs a strong voice in Cabinet to make sure that development funds for our schools, roads and electricity, among others, are dealt with quickly without further delay," he said.
Bung Moktar said he hoped all the new ministers would prioritize Sabah affairs so that the state does not remain in the background.
"We don't want Sabah to be left out again in terms of development, especially infrastructure, which is vital for the people.
"For example, the Pan Borneo highway project must continue and be accelerated. We do not want the project to be discontinued again as it happened when Pakatan became the government in 2018," he said.
More than 30 locations nationwide at risk of landslides
PETALING JAYA: More than 30 locations across the country have been identified as landslide hotspots and with the current continued rain, the potential for landslides is even greater.
Malaysia's Department of Minerals and Geosciences said continuous rainfall during the northeast monsoon, which is expected to last until March next year, is the main reason why areas with slopes greater than 25° are at risk of erosion. .
"This current monsoon phenomenon may result in the potential for landslides being higher, especially in settlement areas with slopes greater than 25°, hillside roads and river basin areas in some ecological parks," it said in a statement.
The department added that the hotspots are in Pahang (Cameron Highlands, Fraser's Hill), Selangor (Bukit Antarabangsa-Hulu Langat, Kuala Kubu Bharu), Kedah (Gunung Jerai, Baling), Penang (Tanjung Bungah, Paya Terubong), Negri Sembilan ( Genting Peras, Jalan Seremban-Simpang Pertang), Perak (Ipoh, Kledang), Terengganu (Aring-Kuala Berang-Kenyir), Kelantan (Lojing – Gua Musang), Johor (Gunung Pulai), Sarawak (Miri, Kapit, Bau) and Sabah (Kota Kinabalu, Kundasang, Sandakan), among others.
The areas are under constant monitoring by the department and relevant agencies, he said.
The Ministry of Energy and Natural Resources and its agencies, which include the department, have also been evaluating, monitoring and implementing landslide risk reduction programs throughout the country.
"A total of 25 ecological parks, which are tourist attractions, have been identified as potentially threatening with the occurrence of mapped debris flows.
"These areas have been installed with an early warning system, while community-based disaster risk management has been established involving local residents and district-level agencies," the department said.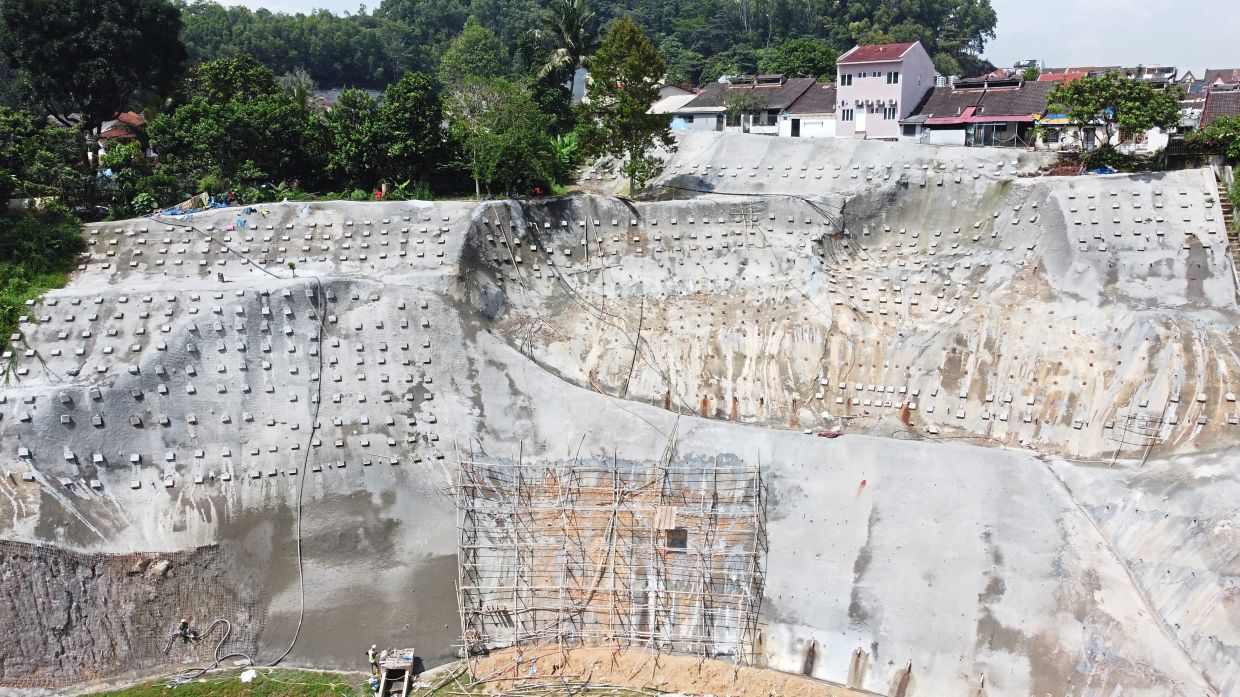 Staff from the Malaysia Institute of Public Works help rehabilitate landslides at Taman Mega Jaya in Ampang, including shoring up areas with concrete. — IZZRAFIQ ALIAS/The Star
Under the program, local residents receive training to improve their level of preparedness against landslides.
The department said it is also working with local authorities to map the hazards and risks of the slopes.
"The department is committed to providing early information related to geological landslide disasters, including working hand in hand with other technical agencies under the National Disaster Management Agency to develop a network of early warning systems, including the public awareness to reduce the risk of loss of life and property damage," he added.
Last month, the Meteorological Department said that the northeast monsoon phase will persist until March next year.