Determined S'porean travels to T'ganu to reunite with sister he never met
PETALING JAYA: She was given up for adoption at birth, but a Singaporean man's determination to find his missing sister paid off when they were finally reunited after 58 years.
Ling Kok Ong, 66, traveled from Singapore to Bukit Payong, Terengganu, to meet her biological sister Hamsiah Mohamad, 58, on Sunday (September 4), after learning of her whereabouts with the help of the Association of Malaysian History in Dungun.
"Although we were separated, our family, especially my mother and late father, always thought of Hamsiah and that is why I came to Terengganu hoping to meet her to fulfill my mother's wish (to see her again)," said. quoted in a Sinar Harian report.
Ling, the third eldest son in his family, said he tried to search for his younger sister in mid-August but was unsuccessful.
However, he found out that his adoptive family had moved away after the death of his adoptive father.
According to Ling, Hamsiah, the sixth of seven children in his family, was adopted by a Malaysian couple childless at birth in Bukit Besi, Dungun.
His biological family, who used to stay in Dungun, lost contact with the Hamsiah family after they returned to Singapore.
Ling's recent efforts to find her sister received a boost when the honorary secretary of the Dungun Area Malaysian History Association, Wan Mohd Rosli Wan Ngah, stepped in to help.
It was fortunately that several members of the association met Hamsiah's nephew and, with his help, put Ling in touch with Hamsiah.
The happy reunion occurred when Ling, accompanied by his wife Josephine Ng, 62, met Hamsiah at 10 a.m. Sunday at a restaurant he owns in Taman Tasek, Bukit Payong, located just an hour from his childhood village. .
Hamsiah, who has two children of her own, said she never thought she would be able to meet her biological family.
"I only found out I was adopted when I was 15 and I didn't think I would see them again because I never met them.
"Thank God I was able to meet one of them," she said, adding that her adoptive parents took care of her and treated her like their own daughter.
Azalina vows to address, amend outdated laws to be relevant with current times
KUALA LUMPUR: As the new Minister for Law and Institutional Reform, Datuk Seri Azalina Othman Said promises to address laws that are outdated and make necessary changes to make them relevant to current times.
In a statement on Saturday (December 3), Azalina said, among other things, that the reform includes the separation of powers of the Public Ministry and the Public Ministry, to preserve the independence of the discretion of the Public Ministry.
"I will also ensure that outstanding issues, including the citizenship status of children born abroad to Malaysian mothers, make continued progress and, where necessary, reform laws to restore the rights of the vulnerable, marginalized and those who don't get the same treatment in our nation," he said.
Meanwhile, in the same statement, Azalina said that there are many challenges ahead for the Unity Government as it navigates the next term, taking into account the impact of the Covid-19 pandemic and the economic downturn expected in the coming year. .
"The portfolio that I am leading involves efforts that span the length of government. I look forward to working together with elected representatives from various parties to address the challenges," he added.
With vast experience as a Cabinet member and having headed various ministries since 2004, Azalina once made history when she became the first woman to be appointed Minister of Youth and Sports in 2004 and the first woman to be appointed Vice President of The House of Representatives. Representatives in 2020.
Azalina was also Minister of Tourism from 2008 to 2009 and Minister in the Department of the Prime Minister (Legal Affairs) from 2015 to 2018. – Bernama
Bung says Sabah sidelined in Cabinet line-up
KOTA KINABALU: Datuk Seri Bung Moktar Radin (Photo) says he feels Sabah is underrepresented in Prime Minister Datuk Seri Anwar Ibrahim's federal cabinet.
Sabah's deputy chief minister said the two ministerial posts the state received through Pakatan Harapan's Upko and Gabungan Rakyat Sabah (GRS) party did not reflect the support given to the unity government by Sabah MPs.
"It seems that Sabah has been left out of the Cabinet formation in the new unity government.
"There is not even one Sabah Barisan representative in the cabinet compared to Sarawak, which has five," he said in a statement here on Saturday (Dec 3), adding that this was not fair to Sabah.
Sabah chief Barisan Nasional said he respected the Prime Minister's decision, but said Sabah needed to be reflected equally in the Cabinet to show that the Federal Government meant business in ensuring that Sabah's rights and development were in the agenda of the new Federal Government. .
"I'm worried. Does this mean that Sabah will also be left out of the development?" questioned Bung Moktar, who led Sabah Barisan to a seven-seat victory in the just-concluded GE15, the most among parties they contested in the state.
Anwar had announced on Friday (Dec 2) evening that incoming Upko Chairman Datuk Ewon Benedick and GRS Papar MP Datuk Armizan Ali have been appointed to their cabinet as Minister for Business Development and Cooperatives, as well as Minister in the Prime Minister's Department (Sabah and Sarawak). Affairs) respectively.
Of the seats in Sabah, GRS won six, Pakatan (five), Warisan (three), Independents (two), and one seat for Parti Kesejahteraan Demokratik Masyarakat and Perikatan Nasional.
Bung Moktar congratulated the two new Sabahan ministers, but stressed that it was important that Sabah receive portfolios that would benefit the state.
"The people chosen for the job must be well-versed in the issues of Sabah's rights and the needs of the state.
"Sabah needs a strong voice in Cabinet to make sure that development funds for our schools, roads and electricity, among others, are dealt with quickly without further delay," he said.
Bung Moktar said he hoped all the new ministers would prioritize Sabah affairs so that the state does not remain in the background.
"We don't want Sabah to be left out again in terms of development, especially infrastructure, which is vital for the people.
"For example, the Pan Borneo highway project must continue and be accelerated. We do not want the project to be discontinued again as it happened when Pakatan became the government in 2018," he said.
More than 30 locations nationwide at risk of landslides
PETALING JAYA: More than 30 locations across the country have been identified as landslide hotspots and with the current continued rain, the potential for landslides is even greater.
Malaysia's Department of Minerals and Geosciences said continuous rainfall during the northeast monsoon, which is expected to last until March next year, is the main reason why areas with slopes greater than 25° are at risk of erosion. .
"This current monsoon phenomenon may result in the potential for landslides being higher, especially in settlement areas with slopes greater than 25°, hillside roads and river basin areas in some ecological parks," it said in a statement.
The department added that the hotspots are in Pahang (Cameron Highlands, Fraser's Hill), Selangor (Bukit Antarabangsa-Hulu Langat, Kuala Kubu Bharu), Kedah (Gunung Jerai, Baling), Penang (Tanjung Bungah, Paya Terubong), Negri Sembilan ( Genting Peras, Jalan Seremban-Simpang Pertang), Perak (Ipoh, Kledang), Terengganu (Aring-Kuala Berang-Kenyir), Kelantan (Lojing – Gua Musang), Johor (Gunung Pulai), Sarawak (Miri, Kapit, Bau) and Sabah (Kota Kinabalu, Kundasang, Sandakan), among others.
The areas are under constant monitoring by the department and relevant agencies, he said.
The Ministry of Energy and Natural Resources and its agencies, which include the department, have also been evaluating, monitoring and implementing landslide risk reduction programs throughout the country.
"A total of 25 ecological parks, which are tourist attractions, have been identified as potentially threatening with the occurrence of mapped debris flows.
"These areas have been installed with an early warning system, while community-based disaster risk management has been established involving local residents and district-level agencies," the department said.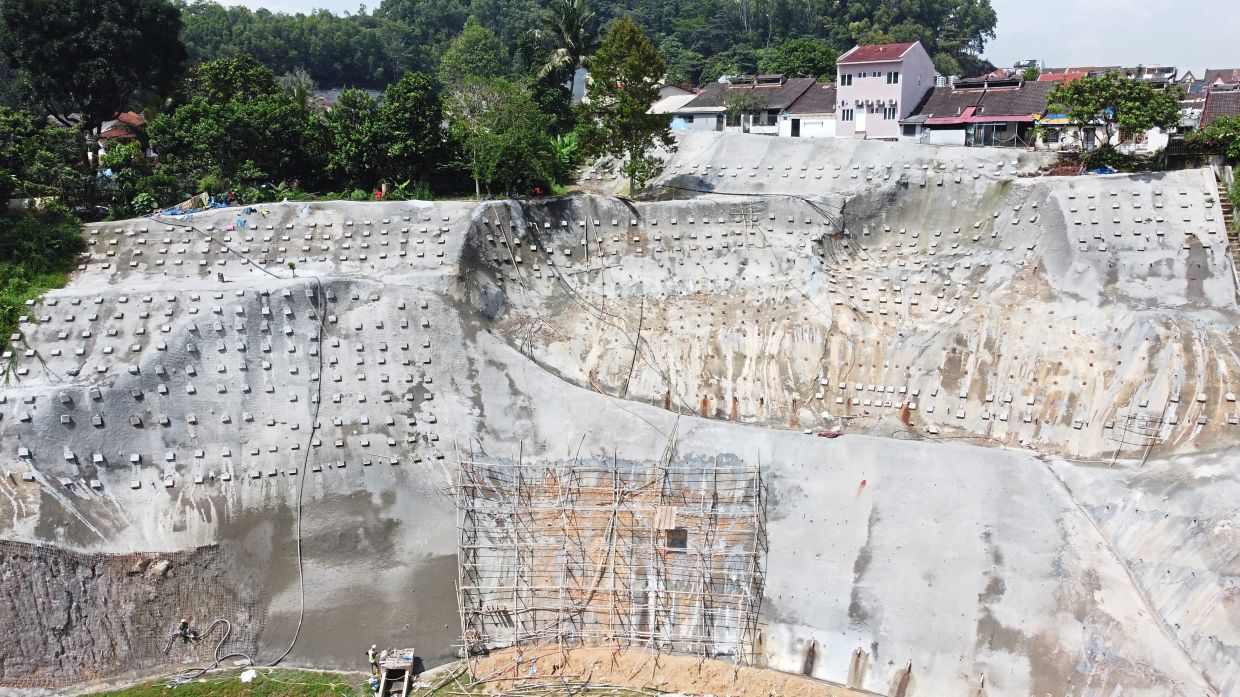 Staff from the Malaysia Institute of Public Works help rehabilitate landslides at Taman Mega Jaya in Ampang, including shoring up areas with concrete. — IZZRAFIQ ALIAS/The Star
Under the program, local residents receive training to improve their level of preparedness against landslides.
The department said it is also working with local authorities to map the hazards and risks of the slopes.
"The department is committed to providing early information related to geological landslide disasters, including working hand in hand with other technical agencies under the National Disaster Management Agency to develop a network of early warning systems, including the public awareness to reduce the risk of loss of life and property damage," he added.
Last month, the Meteorological Department said that the northeast monsoon phase will persist until March next year.